HOW CHORUS HELPS INSTITUTIONS
CHORUS is a simple, automated, and affordable solution for monitoring open access content and datasets reporting on funded research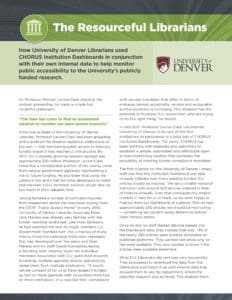 How University of Denver Librarians used CHORUS Institution Dashboards in conjunction with their own internal data to help monitor public accessibility to the University's publicly funded research.
Helps researchers maintain compliance with funder requirements now
Increases researcher compliance and supports accountability for a growing number of open and public access mandates
Saves time and money
Uses standard metadata from the publishing process, eliminating the need to create a new workflow
Offers affordable pricing, providing options for institutions of all sizes
Provides valuable data
Points users to the best available version of articles
Ensure that research articles are archived and preserved, in perpetuity, through partnerships with CLOCKSS, Portico and other services
Find out in 2-1/2 minutes how CHORUS Institution Dashboards can help your institution cost effectively monitor open access output and compliance.
We invite you to sign up for a 90-day institution-wide free trial!