How CHORUS Helps publishers
AUTOMATED OPEN ACCESS REPORTING
CHORUS is a simple, affordable, community-developed solution for monitoring open access to content and datasets reporting on funded research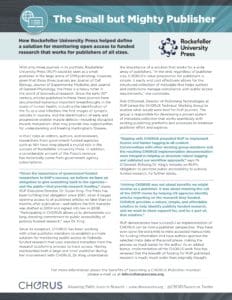 How Rockefeller University Press helped define a solution for monitoring open access to funded research that works for publishers of all sizes. 
Leverages the existing publishing process
Uses standard metadata from the existing publishing processes, eliminating the need to establish new workflows
Designed by members of the publishing community to work seamlessly for members of the publishing community, funders, authors and institutions
Directs users back to your site
CHORUS Search Service allows users to search by funder and/or DOI, sending them to your site for the best available version
Accessing the best available version on your site offers the user commentary, supporting information, revisions, etc.
Demonstrates your support for sustainable Open Access
Supports a community-developed solution for monitoring open access providing real value to you and your authors, as well as the librarians and funders that support them
For more information about becoming a Publisher Member of CHORUS, email us at info@chorusaccess.org
Check out these resources for CHORUS Publisher Members.