The Association of American Universities (AAU) and the Association of Public and Land-Grant Universities (APLU) have released a Guide to Accelerate Public Access to Research Data. The APARD Guide is envisioned as a resource for administrators to accelerate progress and articulate how research outputs are aligned with the research institution's mission. It will outline the major steps of developing support systems for data sharing.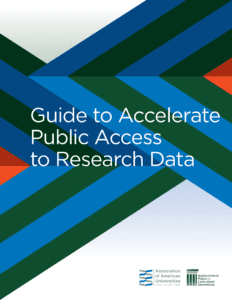 Sarah Nusser from Iowa State University spoke in her capacity as the Co-PI of the APARD project at the January 2021 CHORUS Forum New Connections: Research Data to Content. Reflecting today on the launch of the Guide, Nusser said: "The Guide offers a much needed roadmap for academic institutions to support their researchers in making their data publicly accessible. As institutions develop data sharing systems, researchers will be in a better position to accelerate scientific progress, foster transparency and trust with the public, and ensure sponsor data requirements are met."
In addition to the Guide, a new APARD website features additional resources including past AAU and APLU public data access reports, and information about upcoming webinars with examples of how institutions are moving to specifically implement recommendations contained in the Guide.
CHORUS congratulates the APARD Project team, Steering Committee, and contributors, on achieving this important step in the evolution of open research data.