Free online meeting
13 July 2022 @ 8:00 – 9:00 PM US EDT
14 July 2022 @ 10:00 – 11: 00 AM Australian EST
#chorusaccess

CHORUS presented at the ALIA Virtual Showcase. Registration was open to everyone.
Speakers described how CHORUS is a global not-for-profit organization which helps funders, institutions, publishers, and the public see, find, and understand the status of outputs of funded research. Its activities are funded by its member partners and institutional subscribers.
Presentations and video available below.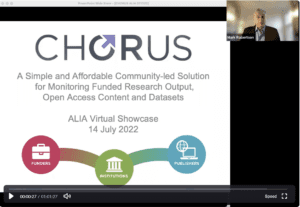 Session Agenda
Introduction and Moderator
Mark Robertson, Development Director for Asia Pacific, CHORUS
Howard Ratner, Executive Director, CHORUS
Will give a short overview of CHORUS and the data services provided to funders, publishers, and institutions, and cover some of the wider contributions CHORUS makes to facilitate open research within the scholarly communications ecosystem.
Judy Russell, Dean of Libraries, University of Florida, Gainesville and
Michael Levine-Clark, Dean of Libraries, University of Denver, Denver
As eminent librarians from North America, they will together explain how CHORUS is used within their own institutions, the reasons why CHORUS is one of their solutions and how open data is so essential for the research community.
Following the short presentations there was an opportunity to ask all three panelists specific questions relating to ALIA members needs and issues and whether CHORUS could be of interest.
ALIA Event page: https://www.alia.org.au/EventDetail?EventKey=VSCH14722