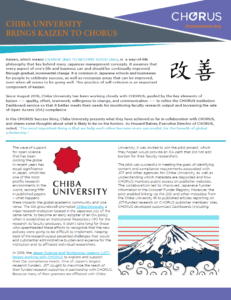 Since August 2016, Chiba University has been working closely with CHORUS, guided by the key elements of kaizen – quality, effort, teamwork, willingness to change, and communication – to refine the CHORUS Institution Dashboard service so that it better meets their needs for monitoring faculty research output and increase the rate of Open Access compliance.
In this CHORUS Success Story, Chiba University presents what they have achieved so far in collaboration with CHORUS, and shares some thoughts about what is likely to be on the horizon.
You can read the full story here.
Of related interest is the article published in the National Diet Library online publication Current Awareness in 2019, which tells the story of the Chiba University partnership with CHORUS. An English translation is available here for non-Japanese readers.
Post updated October 21, 2020