CHORUS Publisher Summary Reports provide publisher members with regular updates about their records in the CHORUS database. The report contains the following details:
DOI | Agencies associated with the DOI |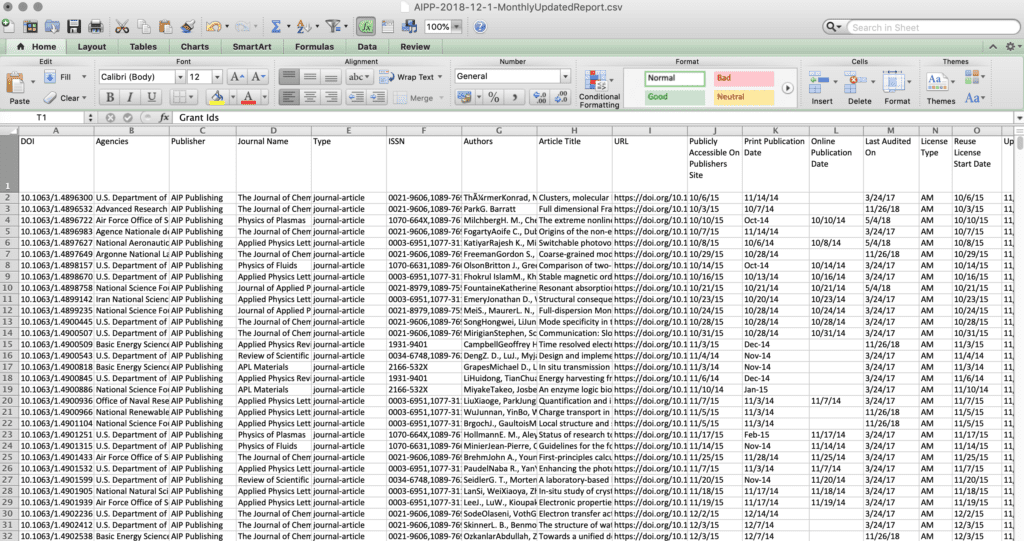 Journal Name |
Type | ISSN | Authors | Article Title |Article URL | Publicly Accessible On Publisher Site Date | Print and Online Publication Dates | Last Audited On Date (Date CHORUS last audited the record) | License Type | Reuse License Start Date | Updated (Date the DOI was last updated at Crossref or CHORUS) | Added (Date the DOI was added in the CHORUS database) | Agency Portal URL | ORCID ids | Grant ids | Datasets
Please visit your CHORUS Publisher Member administrative page to activate this report. When doing so please make sure to also set the appropriate distribution frequency to either monthly or quarterly.
Monthly – Summary Reports will be delivered a few days after the first of month
Quarterly – Summary Report will be delivered a few days after the end of a quarter
All Summary Reports are delivered via email to your technical contact registered with CHORUS and are in .csv format.
If you have any questions or need help activating your report, please contact support@chorusaccess.org.