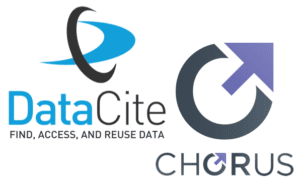 CHORUS and DataCite have signed a two-year Memorandum of Understanding (MOU) to coordinate efforts to adopt identifiers and standards to manage access to and reporting of research outputs.
Authoritative connections between researchers and their works, funding sources, and affiliations, are essential for delivering public access to scholarly content. As not-for-profit organizations engaged in supporting discoverability in scholarly communications, both DataCite and CHORUS have an important contribution to make creating and supporting these links.
The organizations commit to dialog and cooperation on the following topics:
Supporting simple and non-ambiguous links between datasets, researchers and their funding
Displaying links between CHORUS content and DataCite DOIs in the CHORUS dashboards and reports
Building awareness of DataCite services among funding agency researchers and administrators
Encouraging the use of persistent identifiers for researchers and organizations to support public access to research works
"Working with DataCite, CHORUS will be able to enrich the reports we provide our funder, institution, and publisher partners with more details about the types of data related to published funded research and where it can be found," said Howard Ratner, Executive Director of CHORUS.
Matthew Buys, Executive Director of DataCite added "our collaboration with CHORUS will increase reuse of our metadata and provide global researchers and funders with more connections to the datasets available in our service. We look forward to working closely with the CHORUS community."
DataCite and CHORUS will engage in regular strategic conversations at the leadership level and will support specific engagements with relevant groups to support these goals.
About DataCite
DataCite is a leading global non-profit organization that provides persistent identifiers (DOIs) for research data and other research outputs. Organizations within the research community join DataCite as members to be able to assign DOIs to all their research outputs. This way, their outputs become discoverable and associated metadata is made available to the community. DataCite then develops additional services to improve the DOI management experience, making it easier for our members to connect and share their DOIs with the broader research ecosystem and to assess the use of their DOIs within that ecosystem. DataCite is an active participant in the research community and promotes data sharing and citation through community-building efforts and outreach activities.
About CHORUS
CHORUS advances sustainable, cost-effective public access to articles reporting on funded research in ways that benefit all in the scholarly communications community. A not-for-profit membership organization, CHORUS leverages existing infrastructure, promotes collaboration, sparks innovation, and broadens the dialogue among publishers, funders, service providers, researchers, and other stakeholders. By providing the necessary metadata infrastructure and governance to enable a smooth, low-friction interface between funders, authors, institutions and publishers in a distributed network environment, CHORUS minimizes open access compliance burdens while increasing access to literature and data in support of funder mandates worldwide.