We are very pleased to announce that the Japan Science and Technology Agency (JST) has signed a Japan Dashboard agreement with CHORUS to monitor public accessibility of content reporting on JST-funded research. The agreement comes after a successful pilot project that began in July 2016.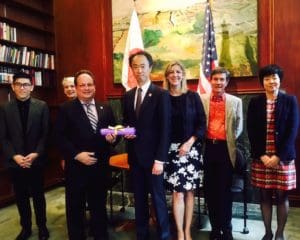 A ceremony marking this milestone was held at Rockefeller University on 15 September 2017 where a fully executed and countersigned version of the agreement and a token of appreciation were presented to Dr. Yasushi Ogasaka, Director of Database for Information and Knowledge Infrastructure, JST, on behalf of the CHORUS Board of Directors.
Susan King, Executive Director of Rockefeller University Press and Chair of the CHORUS Board of Directors, welcomed attendees to the ceremony and noted that the Japan Dashboard Service was a first step in the globalization of the services that CHORUS provides.
Howard Ratner, Executive Director of CHORUS, noted in his remarks,  "The most important thing we learned is that we could help each other become more successful.  CHORUS could help JST with its awareness of the location on publisher sites and public accessibility of articles reporting on JST-funded research, and JST could help CHORUS expand beyond US government funding agencies."
The JST agreement is CHORUS' first international agency agreement. One of the most prolific research environments in the world, Japan ranks fifth in published papers.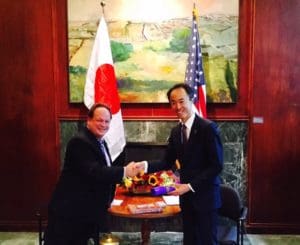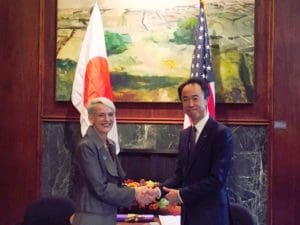 ABOUT JST
The Japan Science and Technology Agency is an integrated organization of science and technology that is establishing an infrastructure for the entire process from the creation of knowledge to the return to society. JST provides funding to achieve innovation in science and technology through creative research and development, maximizes research outcomes by managing research resources on the virtual network, and develops Japan's infrastructure for science and technology to accelerate innovation in science and technology.
ABOUT CHOR Inc.
CHOR, Inc. is a non-profit membership global organization that promotes and supports perpetual public access to content reporting on funded research by leveraging existing and emergent digital technology used by scholarly publishing organizations and others in the scholarly community. CHOR's members collectively produce the vast majority of published peer-reviewed journal articles.
For more information please contact Susan Pastore at CHOR, Inc.