NASA released a request for public input on the "NASA's Public Access Plan, Increasing Access to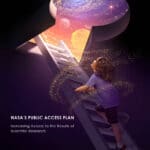 the Results of Scientific Research" (NASA Public Access Plan).  The NASA Public Access Plan outlines the proposed approach NASA will take to implement the new guidance, consistent with its longstanding commitment to public access. CHORUS is pleased that NASA recognizes our publisher members' contributions to the discovery of NASA funded research. 
All comments must be submitted by August 17, 2023 via email to
hq-publicaccess@mail.nasa.gov
After the Office of the Chief Scientist (OCS) has finished reviewing the responses, the responses may be posted to the NASA OCS website without redaction. All submissions will be acknowledged and NASA will publicize a summary of the submissions within 90 days.
If you need additional information or clarification on the RFI process please contact  Dr. Louis Barbier, NASA  Associate Chief Scientist, at Louis.M.Barbier@nasa.gov, 202–358–1421