The Department of Energy's Office of Scientific and Technical Information (DOE OSTI) announced (https://www.osti.gov/DOE-OSTI-Launches-PIDs) a new website, PIDs@OSTI.GOV, that details their services and support for assigning and using persistent identifiers (PIDs) for research components such as data, software, text documents, awards, people, and organizations.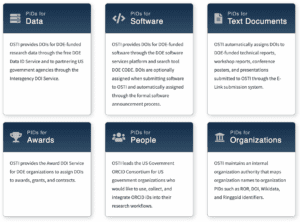 According to Carly Robinson (OSTI Assistant Director for Information Products and Services), "PIDs@OSTI.GOV provides background, resources, and information about the power of PIDs and the PID services OSTI provides for DOE and other US Government organizations. The site also demonstrates the benefits of using PIDs to reduce researcher administrative burden, promote improved citation and reference tracking, provide increased discoverability of research components, and develop essential components for human-machine interoperability."
The CHORUS community values PIDs as a key to discovering and promoting Open Research. We see this new service by OSTI as an important step for further embedding more PIDs into the workflows of US federal research.
More information can be found at: https://www.osti.gov/pids/