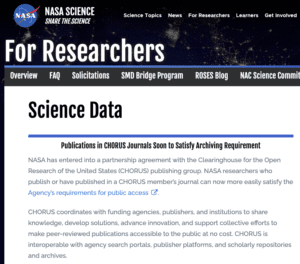 NASA researchers who publish in a CHORUS member's journal can now more easily satisfy the Agency's requirements for public access.
In a recent communication with their researcher community, NASA noted that they will leverage CHORUS data and infrastructure to increase access to NASA-funded research. CHORUS is currently tracking more than 33,000 articles reporting on NASA-funded research. Metadata for NASA-funded publications available from CHORUS will be integrated into a new PubSpace platform within the NASA STI Repository.
More details on NASA's public access policy requirements can be found on the NASA STI Program website. You can read more about the NASA/CHORUS partnership.