The 6 June 2023 CHORUS Forum was an open discussion around what it takes to connect pieces of the research lifecycle. The forum was moderated by Phill Jones of MoreBrains Cooperative and sponsored by the Association for Computing Machinery, AIP Publishing, GeoScienceWorld, Silverchair, and STM.
Phill Jones, MoreBrains Cooperative, along with Lori Schultz, Assistant Vice President, Research Intelligence, University of Arizona outlined what they viewed as the problems with mapping the research lifecycle.  
Researcher burden

– researchers are being asked to provide more detail throughout the research cycle within each system they encounter, making this an onerous process. Lori reported that several survey measures over the years have estimated that US federally funded researchers spend 42% time on things that are not actively doing the research (i.e. administrative burden/workflow).

System integrations

– continue to be big obstacles and perpetuates the burden because researchers are then asked to provide the same information in multiple systems throughout the research steps. If systems were built with interoperability in mind, those obstacles could be greatly reduced. Open software is becoming more prevalent but too many entities want their own systems, limiting the possibilities of system connections. How can one map the research if the pieces are not connected?

Funding is still independent of the publication workflow

– there really isn't a good way to determine ROI on publications linking to the grant. A considerable amount of rekeying data happens because of the lack of integrations with the sources. 
Burdens are changing with upcoming data management sharing policies, such as the National Institutes of Health requirements for deposit of articles and datasets in repositories to demonstrate compliance with their policies. However, as researchers may be required or want to deposit in multiple repositories, the researcher usually needs to enter information in multiple systems so interoperability remains a problem.
See Phill's presentation at 02:38 and Lori's presentation at 12:59.
Steve Pinchotti, CEO, Altum; Carly Robinson, Assistant Director for Information Products and Services, OSTI/USDOE; Shawn Ross, Professor of History and Archaeology at Macquarie University, Product Manager, ARDC outlined solutions to help map the research lifecycle and reduce burdens through promoting interoperability and the use of PIDs. 
Steve Pinchotti mentioned there are over 4k system integrations with ORCID and stated that in Altum's Proposal Central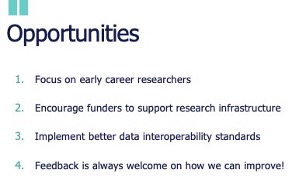 (a grant management system) the adoption rate where principal investigators submit grant applications with an ORCID ID has gone from 50% in 2018 to now 82%. Funders still weigh the value of asking researchers for an ORCID ID as an extra burden, so still some work to shift that perspective. In addition, capturing RoR IDs and Crossref Award IDs are also helping reduce researcher burdens. Integration with more systems is imperative to reduce burdens across the ecosystem.  See Steve's presentation at 23:18.
Carly Robinson highlighted the work that DOE OSTI is doing to connect research components using Persistent Identifiers (PIDs). The DOE funds approximately $12B annually to national labs and grantees at universities or other institutions. From that funding about 50k research outputs, such as accepted manuscripts, software, and data, are being produced each year. DOE OSTI works to collect these outputs for long-term preservation and dissemination. One method to do this is to use PIDs throughout the research lifecycle.  Carly shared this visualization of how DOE views the research lifecycle and various PIDs that could be involved.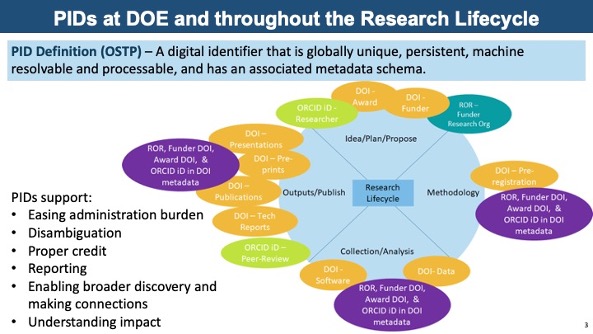 Carly noted that having PIDs at many points of the research lifecycle will help provide a better understanding of return on investment and make the analysis impact much easier. See Carly's presentation at 34:02. 
Shawn Ross provided an overview of the work being done at ARDC with RAID (Research Activity IDs). 

RAIDs are PIDs for research projects and activities, not to be confused with PIDs assigned to grants, researchers, organizations, documents, software or datasets, etc. The RAID captures project information found nowhere else and can be time-bound and is a project ID.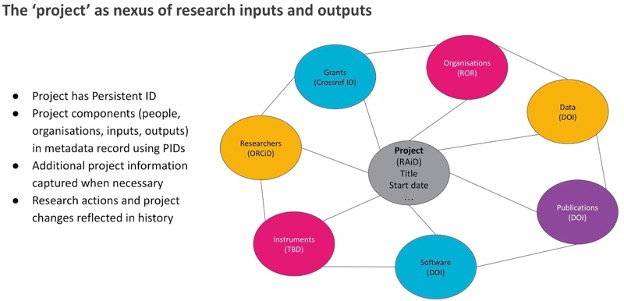 Shawn explained why there is a need for project IDs to help resolve the following problems: 
Distributed and siloed information 

Impact tracking

Metadata not routinely or comprehensively captured

Standardization
An analysis performed by Brown, Josh;  Jones, Phill;  Meadows, Alice; Murphy, Fiona (2022). Incentives to invest in identifiers: A cost-benefit analysis of persistent identifiers in Australian research systems. https://zenodo.org/record/7100578 showed the potential efficiency impact of investing in identifiers.  See Shawn's presentation at 48:22.  
During the panel discussion: 
Kevin W. Bowyer, Professor of Computer Science and Engineering, University of Notre Dame was asked about his experiences interacting with research administrations. 
Scott Dineen, Senior Director of Production and Technology, Optica was asked about what Optica was doing to connect research entities without introducing researcher burdens. 
Make sure to watch the Panel Discussion Video: 1:01:54 on the event page. 
In closing, there seemed to be a consensus that although much progress has been made, the landscape remains fragmented, resulting in difficulty tracking the true impact of research, and a high level of administrative burden, particularly on researchers. While progress is being made to address these issues, more needs to be done by all stakeholders to uniquely, openly, and persistently identify and connect funders, institutions, grants, projects, date and other research outputs. With the consistent implementation of PIDs, progress can be made to support all stakeholders in the research ecosystem.
Thank you to our speakers for their insights, our sponsors for their contributions, and the many attendees who participated and helped make this CHORUS Forum a success.
A big thank you to our sponsors for supporting this forum: Association for Computing Machinery, AIP Publishing, GeoScienceWorld, Silverchair, and STM.
All presentations and recordings are made available on the event page.