ONLY A FEW SPACES LEFT…
Don't delay… Anyone interested in finding out more about how CHORUS works and how to participate should sign up for our in-person Technical Implementation Workshop on 18 December 2014 at the AAP's NYC offices at 71 Fifth Avenue, 2nd Floor.
Can't make it? We're holding another Technical Implementation Workshop on 3 February 2015 in Washington, D.C., on the day prior to the AAP/PSP Annual Meeting. And we'll be scheduling a webinar soon.
WELCOME NEW MEMBERS!
CHORUS is pleased to be working with the following new Publisher Members to advance public access: American Society for Plant Biologists, The Royal Society, and The Optical Society. All members are now prominently displayed on our website.
The more members, partners, and supporters that sign on with CHORUS, the more value our organization has for the research community. CHORUS is available free of charge to researchers, funders, academic institutions and libraries, and the public. Member fees for publishers and affiliates represent good value and are vital to CHORUS' success—they cover our start-up and operating expenses.
Membership categories include:
To learn more, please feel free to contact Howard Ratner or Susan Spilka.
IN THE NEWS
Please check out Making the connections between funder and research in the December 2014/January 2015 issue of Research Information (page 30). Siân Harris interviews Executive Director Howard Ratner about what CHORUS is about, where we fit in the scholarly publishing landscape, and what's on our horizon.
ON THE ROAD
If you're attending the STM Innovations Seminar 2014 at the Congress Centre on Great Russell Street in London on 3 December 2014, we encourage you to attend the CHORUS Flash Session during which Howard will present (please check the schedule).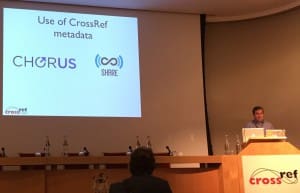 CHORUS is a service of CHOR, Inc., a non-profit 501(c)(3) organization.   Follow us @CHORUSaccess